Shelly & Sands Inc., ODOT Receive Top National Award For Quality in Asphalt Paving
Innovative I-77 Project Encompassed 23 Lane-Miles of Pavement Work
The National Asphalt Pavement Association (NAPA) honored Shelly & Sands Inc. of Zanesville, Ohio, as the winner of the 2019 Sheldon G. Hayes Award for excellence in construction of an asphalt pavement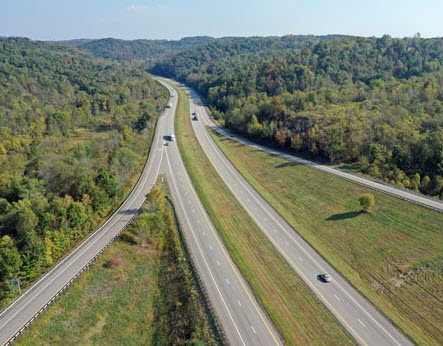 for its work for the Ohio Department of Transportation (ODOT) on Interstate 77 in Guernsey County, Ohio.
The Sheldon G. Hayes Award, bestowed annually since 1971, recognizes the country's highest quality highway pavements. The company received its award today at a ceremony during the association's 54th Annual Meeting in Maui, Hawaii.
The asphalt pavement industry is committed to building high-quality projects that deliver superior performance to the traveling public," said 2019 NAPA Chairman John Harper. "All contractor's projects earning a Sheldon G. Hayes Award are measured against industry best practices, rated for smoothness a year after construction, and visually inspected to ensure the project lives up to our promise. I'm honored to say that, in earning a 2019 Sheldon G. Hayes Award, Shelly & Sands has exceeded these rigorous standards."
Over the 5.23-mile-long I-77 project, Shelly & Sands milled the old pavement and placed more than 55,000 tons of new asphalt pavement mixture. As part of the project, the interchange with State Route 541 required complete rehabilitation and upgrading, including removal of old concrete pavement and replacing it with full-depth asphalt.
A 1-mile test section with a void-reducing asphalt membrane (VRAM), construction of a new bridge deck, and the need to begin paving in the middle of the project due to the scheduling of the bridge work were some of the challenges that Shelly & Sands needed to overcome on the project. Despite this, Shelly & Sands received full incentive payments for joint density and smoothness.
In partnering with ODOT, the project was one of the first pilot tests of a thermal imaging camera to monitor pavement temperature to identify thermal segregation from side to side across the mat. All data was shared with ODOT for research purposes.
This marks the second time in three years that Shelly & Sands has been a finalist or winner of the Sheldon G. Hayes Award.
The award is named for Sheldon G. Hayes, a founder of NAPA and the association's first chairman. Hayes spent his entire career striving for better construction techniques and improvements in the quality of asphalt pavements.
.
In addition to the Sheldon G. Hayes award:
Shelly & Sands has also been named winner of the Larry H. Lemon Quality in Construction Award from NAPA. The Larry H. Lemon Award is presented to the 10 highest-scoring projects submitted for a Quality in Construction Award in the General Paving (less than 50,000 tons) category.
The winning project was a mill-and-overlay project on State Road 11 in Fowler and Johnston Townships in Trumbull County, Ohio. Shelly & Sands completed extensive pavement repairs during the 1-inch mill and overlay and finished with a fine graded polymer asphalt concrete overlay. The project used 16,267 tons of asphalt, Morrison said.
In addition to the above mentioned awards, Shelly & Sands received 12 Quality In Construction awards.
Click on image to enlarge