IN THE NEWS
What a Partner!
The Muskingum County Board of Developmental Disabilities – Starlight Programs has proudly named Shelly & Sands their Partner of the Month for July 2018. They have been a great partner with the program by allowing us to use their facilities, sponsoring events, and providing employment opportunities for individuals with disabilities. Jakub, Joseph, and J.J. (left) recently spent the day at their park during the summer youth program. Vance (right) has been employed by the company for three years. They presented the award to employees Kenny Wilson and Mark Smith.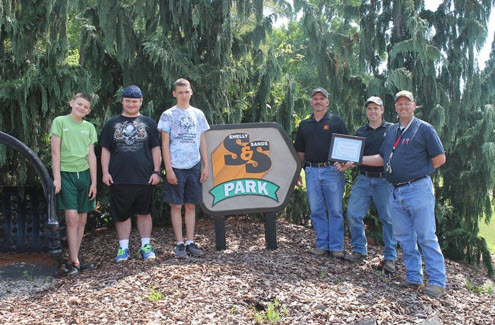 2018 SAFETY & EEO MEETING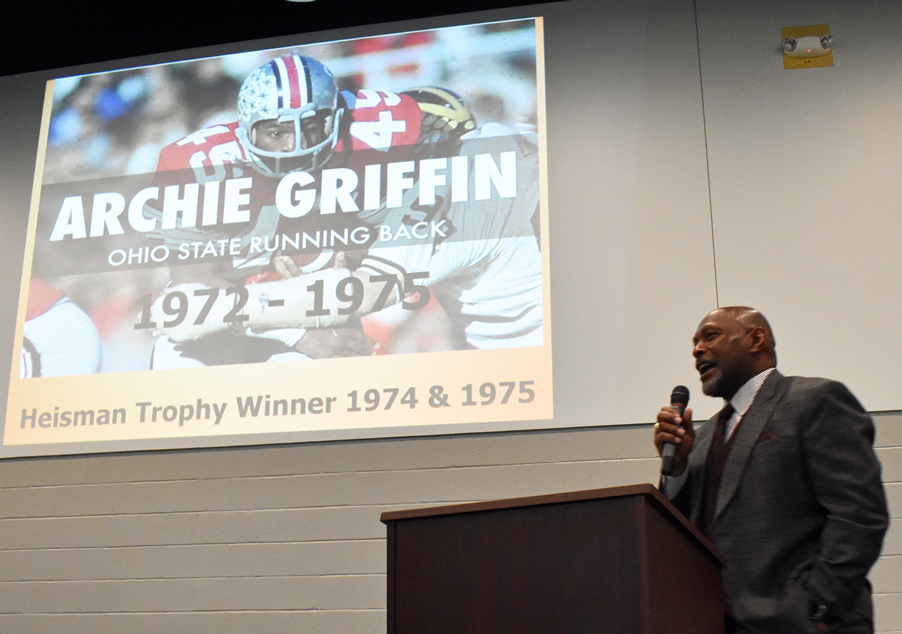 Football Great Helps Kick Off 2018 Construction Season
Former Ohio State Buckeye Archie Griffin helped kick off the 2018 construction season with a motivational speech on how hard work leads to success during the Shelly & Sands Safety and EEO Annual Meeting.
President Cole Graham and COO Mike Cline, along with area VPs and managers reviewed the 2017 season highlights and touched on the upcoming 2018 season. 2017 featured many successes, including an array of awards:
13 Quality Asphalt Paving Awards from Flexible Pavements of Ohio
Three NAPA Quality in Construction Awards
The Thomas J. Medvick Excellence in PWL Paving Award in West Virginia
EEO Officer Myra Johnson explained equal employment requirements, and Safety & Risk
Shelly & Sands Hosts Cub Scout Day Camp at Employee Park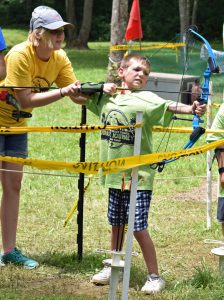 June 18, 2018
Shelly & Sands Employee Park was transformed into "Jurassic Park" the week of June 18. For the sixth year, the Muskingum Valley Council of the Boys Scouts of America held Zane Trace Day Camp at the park with this year's theme being "A Jurassic Journey".
Activities included archery and a BB gun range, field sports and games, water activities, and crafts. The final day featured a K-9 demonstration by the Roseville Police Department and the Muskingum County Sheriff's Department with lunch from Subway being provided by Shelly & Sands.
In all, more than 100 Cub Scouts, counselors and volunteers from over four counties enjoyed our park and the event.
MAXIMUM SMOOTHNESS
Shelly & Sands Earns Maximum Smoothness Bonus with New MTV
Article Aug 13, 2015   POSTED ON FORCONSTRUCTIONPROS.COM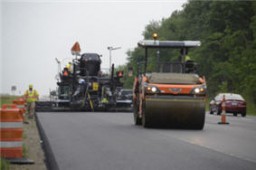 In early summer, Shelly & Sands Inc., Zanesville, OH, completely reconstructed over nine miles of I-71 between Mansfield and Columbus in the central part of Ohio.
In a $54 million project, the Ohio DOT took the opportunity of widening I-71 from two lanes to three to completely rebuild the highway from the base up. This project represents the last stage of "three-laning" the busy interstate from Columbus to Cleveland, and the segment between Columbus and Cincinnati also is being widened to three lanes.
The star of the show on I-71 was Shelly & Sand's new Vögele MT 3000-2i material transfer vehicle, feeding a Vision 5200-2 paver with VF 600 screed. The compact low-center-of-gravity MTV offers an alternative to the "silo" or shuttle-type MTVs which have been the standard up to now most states and to existing low-profile MTVs.
I-71 ASHPALT PAVING
VÖGELE: NEW POWERFEEDER MT 3000-2i IN OHIO

Bonus bravura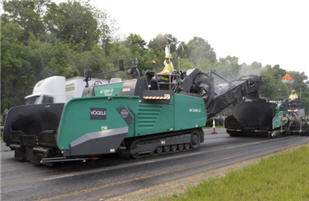 In early summer, the new MT 3000-2i material transfer vehicle from Vögele was helping an Ohio contractor attain the kind of ride numbers it needed to win the maximum smoothness bonus for an interstate highway reconstruction.  Shelly & Sands, Inc., Zanesville, Ohio, utilized its three Wirtgen lines of Vögele, Hamm and Kleemann equipment to completely reconstruct over nine miles of I-71 between Mansfield and Columbus in the central part of the state.  And its milling subcontractor, long-time Wirtgen user BOCA Construction, Inc., Norwalk, Ohio, used Wirtgen mills to remove existing asphalt down to concrete pavement, so all four product lines were represented in this $54 million project.
FEELING THE HEAT
Feeling the Heat: Crews Race to Repair Span in 18 Days
By: Irwin Rapoport – CEG CORRESPONDENT  POSTED ON CONSTRUCTIONEQUIPMENTQUIDE.COM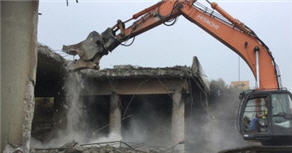 Cooperation was essential to repairing the damage quickly and properly, and the first meeting with Shelly & Sands occurred 15 minutes after the contract was awarded
Early in the morning of July 1, a fire caused by a tanker truck carrying ethanol exploded under a bridge on Interstate 70 on the outerbelt going around Columbus, Ohio. This required emergency work to be done to repair the bridge and adjacent ramp — a $1.186 million Ohio Department of Transportation (ODOT) contract that went to Shelly & Sands Inc. (S&S) a day after the incident.
The bridge repair work was done in 18 days and reopened to traffic on July 21.